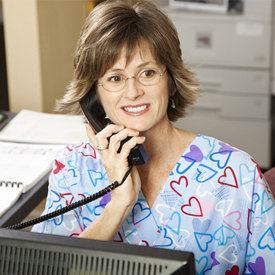 How much do you charge?
We charge a percentage of what you collect as a result of what we have billed for your office. This amount does not include money collected up front (across the desk) by you. It does however, include any money collected from claims or statements sent by Chiropractic Billing Group, LLC.
Many chiropractic billing services charge a flat per fee claim. We feel this does not work well for the chiropractic community. Many chiropractic claims are denied for a variety of reasons and quite often need to be appealed. Billing services that work on a flat, per claim rate are not highly motivated to continue working to get denied or problem claims paid. We work aggressively on each claim to get you the most money possible per claim. Please contact us to learn more about our competitive rates.
How does it work?
Your office will use specific forms provided to you by Chiropractic Billing Group, LLC for each patient that include the patient's demographics, insurance carrier information with ID No., Group No. and insurance verification. Each day your office will send us the completed Day Sheet(s) via fax or upload to your online File Manager Folder (on our website).
The Day Sheet includes a list of all patients seen that day with services, payments collected by you across the desk, and the total charges. We bill out claims weekly. The insurance Explanation of Benefits (EOBs) come to your office. You send us the original EOBs weekly via fax or mail. Once the EOBs are received, we post the payments to the patient accounts. We bill you the first week of the month for the previous month's payments. You will be billed a percent of monies received by you as a result of what we have billed out for your office.
Do you provide patient statements?
Yes, we do provide patient statements upon request. Patient Statements are mailed or uploaded to your online File Manager Folder (on our website). Please contact us to learn more about this service and associated fees.
What are your terms?
Our terms are Net 15 days. Failure to pay in a timely manner will cause an interruption of your claims being submitted.
What is the File Manager Folder?
Each office is given a user name and password to login through our site to access files. This is a way for us to transfer sensitive files back and forth with our clients. The customized forms we provide each specific office will be available in this area as well. Each office will have a private File Manager Folder only accessible to them.
What are the responsibilities of the Chiropractic Office?
Offices using our chiropractic billing services are required to use the forms provided by Chiropractic Billing Group, LLC. Forms must be completed fully and accurately in order for us to process your claims efficiently and effectively. Day Sheets should be submitted to our office each day either via fax or uploaded to the file manager (on our site). Explanation of Benefits received by your office must be FAXED or MAILED weekly to insure each patient's account is kept up-to-date. To help us serve you better, it is very important for your office to follow these procedures. Incomplete patient information sheets, missing day sheets or EOBs will hinder our ability to get your claims out in a timely manner.
Do I need to sign a contract?
Yes, Chiropractic Billing Group, LLC requires you to sign a one year contract.